Welcome to the Tim Wilson Personal Trainer website
Tim Wilson Personal Training
ALPHA FITNESS PERSONAL TRAINING NEWMARKET, SUFFOLK and CAMBRIDGE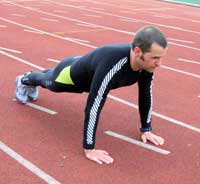 With the knowledge, experience, tried and tested ways of training, I know how to get you to your goals. In your own home, in the gym, or outside in the fresh air, with or without equipment and make it fun and enjoyable.
With the wide range of skills, life experience and qualifications I will be suited to many types of people, from any walk of life Sports person (Professional or Amateur), House wife or House husband, someone just coming back from having baby Professional person and many more.
Every client will receive a detailed, progressive and personalised program. Every session that you do with a Personal Trainer will be 40-60% more effective than by training alone, therefore the more you invest the greater the return, so – What level of results do you want?
Training with me will help you with your normal daily lives: Improved Strength, Balance, Flexibility, core stability Coordination, power, Agility and Cardiovascular Fitness.
All you need to do is be committed to the program and listen to advice I give you. The benefits of training with Alpha Fitness is:
Specific Coaching.
High levels of motivation.
Assess the exact point to move on & progress.
Alpha Fitness Personal Training Specialist Areas:
Endurance Training – improving tone and conditioning and increasing your body's potential to grow and add shape. (Shape and Tone).
Weight loss – Getting rid of unwanted fat and lowers your body fat %. Lose 8lb – 10lb in eight weeks also with Nutritional advice.
Sport Specific – For improving performance and stamina (horse riding, boxing, running and many more)
Strength & Conditioning – structurally stronger allowing you to work harder.
Core Training – Stronger, flatter, tighter abs and extra support for the spine.
Flexibility Training – Reduce muscle tightness, stress and soreness and improve your movement range.
Nutritional Advice – Get you to be able manage your food intake better to fit in with your life style and perform better in daily life.
This combination of training will not only improve your fitness but it will also make you structurally stronger allowing you to work harder, lift heavier in later phases of training thereby significantly improving your potential results.